Wireless Nurse Call Systems
Top Wireless Nurse Call Systems Manufacturer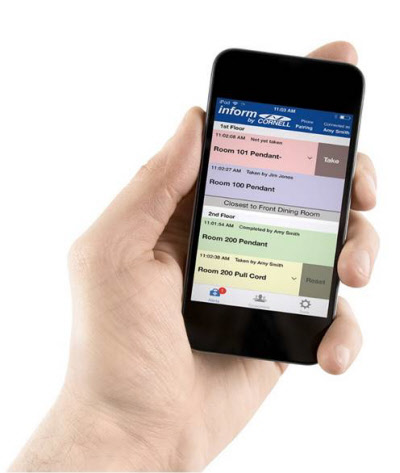 Cornell Communications specializes in high-quality nurse call systems for healthcare facilities around the world. Our systems allow for easy communication throughout your facility, so patients don't have to wait for assistance.
We have experienced technicians available to install a variety of proven wireless nurse call systems. With over 40 years of experience in call system design and implementation, we can develop a custom system for any facility.
Contact the wireless call system specialists at Cornell Communications for the best in emergency communications.
inform Interactive Care Communication System
Award-Winning Emergency System for Senior Care, Assisted Living, Nursing Homes, and More
At the 2014 LINK Long Term Care and Senior Living Conference in Chicago, our inform call system was the winner out of a large pool of 50 other entries. The entries are judged on uniqueness, industry impact, and availability. While awards are great, the best recognition is hearing from our many satisfied customers.
The inform wireless nurse call system combines staff communication and nurse call systems into one that can be integrated directly into an existing nurse call system. inform not only notifies healthcare staff when a resident is in need of assistance, but also tracks staff response times and documents the nature of the call and what action was taken. It's an entirely new dimension of tracking, reporting and communication, all brought together in a single, user-friendly system.
With inform, you will be better able to deliver the highest level of care, motivate teams to perform their best and translate care data into business data to bill and staff accordingly. Residents, their families and your staff all benefit.
inform Nurse Call System At a Glance:
Real-time alert and response tracking
Data collection and reporting
Two-way mobile communication
Multiple applications on one mobile iOS device
API integration
Works with legacy systems
inform Keeps You Informed On:
Which resident needs assistance
When they called
Where the resident is located
Which staff responded to the call
Staff's response time
The amount of time spent with the patient
The reason for the call
AURA 2.0 Emergency Call System
Cornell Communications' AURA 2.0 emergency wireless nurse call system combines wired systems with newer wireless technology to increase communication efficiency in healthcare facilities. The AURA 2.0 system automatically documents calls and notifies staff of a resident in need of assistance.
AURA 2.0 allows legacy wired, audio and visual nurse call systems to remain in place and adds medical data logging and documentation capabilities to enhance your care level.
Cornell's AURA 2.0 wireless nurse call communication systems can be integrated with the full spectrum of care communication products.
Nurse call pendants
Medical pagers
Transmitters
Receivers
Wireless pull cord bed stations
Nurse Call System Pendant
Senior care residents feel (and are) safer when wearing a wireless pendant. At just the touch of a button, they can call for care no matter where they are.
Aura wireless call pendants work with nurse call systems, sending resident alerts to care providers via pagers, cell phone text, emails, call system or display alerts.
Call and response time monitoring
Medical data logging and reporting
Code-compliant wired call stations
Easy for residents and staff to use
Reliable and flexible system
Works with legacy audio and visual systems
Wireless nurse call pendant features:
Both neck cord and a belt clip included
Small, light, water-resistant mobile transmitters
Single-button, one-second press and hold activation functionality
Alerts via pagers, cell phone text, emails, call system or display
Wireless Nurse Call System Design, Integration and Implementation
Our objective is to help you deliver a higher level of care with products that are configurable to meet your required application. Cornell's engineering team helps you get the most out of your system by first assessing your environment and long-term objectives, then designing the best system for your needs.
Our process:
Identify and recommend technical decisions to reduce costs, increase user productivity and maximize system performance
Design and implement a custom solution
Hands-on training
Ongoing support
Wireless Call System Parts for Sale Online
Cornell Communications also offers replacement parts for emergency communication systems. Whether you need a replacement call cord or new clinic status panels, we will get your parts shipped to you quickly and efficiently.
Contact wireless nurse call system manufacturers from Cornell Communications to have the inform or AURA 2.0 nurse call systems installed.