Get the system you need.
Audio and visual nurse call systems for assisted living facilities, nursing homes, hospitals and outpatient medical clinics.
Traditional lights, buttons and pull cords are smartphone/WiFi integrated. Let us know what you're trying to do and we'll take care of you.
Order by Noon CST for possible same day shipping*
*See Terms & Conditions
Need Some Assistance?
System Quote
System Design/Installation

1-800-558-8957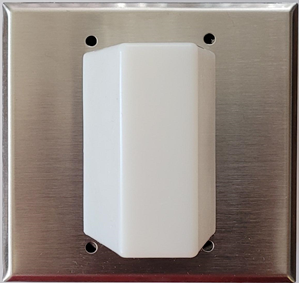 L-201A: Corridor Light on 2 Gang, One Lamp
Online Price:

$35.70

/each

$42.00
Light Notifications for Nurses Stations
The L-201A clinic status system is mounted on a double-gang box with one lamp. CORNELL Corridor Light bases feature a translucent, wedge-shaped dome cover, over a single incandescent bulb mounted on a stainless-steel plate. Optional custom screen-printed designations are available on domes. Dome cover color options are White (standard) or Red (Red dome covers NOT UL listed).
Custom Options: Choose from our variety of brighter long-life LED modules in various colors, that are sold separately in White (8020-001W), Red (8020-001R), Blue (8020-001B), Green (8020-001G) or Amber (8020-001A). Domes can also be silkscreened with custom designations. Please call Cornell for pricing and availability.

Operation: The Light will illuminate when associated station is activated.
Maintenance: Dome covers are easily removed from the front, for simplified bulb replacement. Only use CORNELL approved replacement parts.
Mounting: The Light will illuminate when associated station is activated.
Engineering Specifications: The contractor shall furnish and install the CORNELL Series 4000 Corridor Lights. The domes shall be Red or White, with custom optional designations silk-screened on the surface. The stainless-steel faceplates shall mount on a standard 1, 2, or 3 gang boxes. Socket includes 2 leads (positive and negative), with external connection achieved via pigtails.
Technical Information:
• Power Requirements: 24VDC
• Operating Environment: 50-120°F Indoor Non-condensing
• Physical Faceplate Dimensions: 4 ½" H x 2 ¾" W (1 Gang)
• Mounting: Single, double, or three Gang back box with 1" minimum depth
• Wiring: #22 AWG Minimum
View our full selection of nurse call systems to find the perfect system for your health care facility.