4800 Series Digital Area of Refuge System
Emergency Call Systems >> Area of Refuge Systems >> 4800 Series Area of Refuge System
---
4800 Series - Two-Way Emergency Communication System from Cornell
Cornell's 4800 Series digital area of refuge system (area of rescue system) helps those with diabilities communicate with first responders during an emergency. In an emergency such as a fire the caller presses the button on the wall mounted call station to speak directly with staff. The system's simplicity of use is essential in stressful, emergency situations.
The 4800 Series area of refuge system operates as shown above. The system supports up to 255 call stations and 5 master panels; making it perfect for larger buildings. It even offers two-way communication both in the building and with the 911 center.
Cornell developed the 4800 Series to meet the area of refuge requirements of the International Building Code (IBC) adopted by the US in 2015. With the 4800 Area of Rescue Assistance System, patrons of hospitals, nursing homes, assisted living communities, senior living centers, office buildings, and other multi-story structures can feel safer in an emergency, knowing help is on the way.
4800 Series Area of Refuge System Overview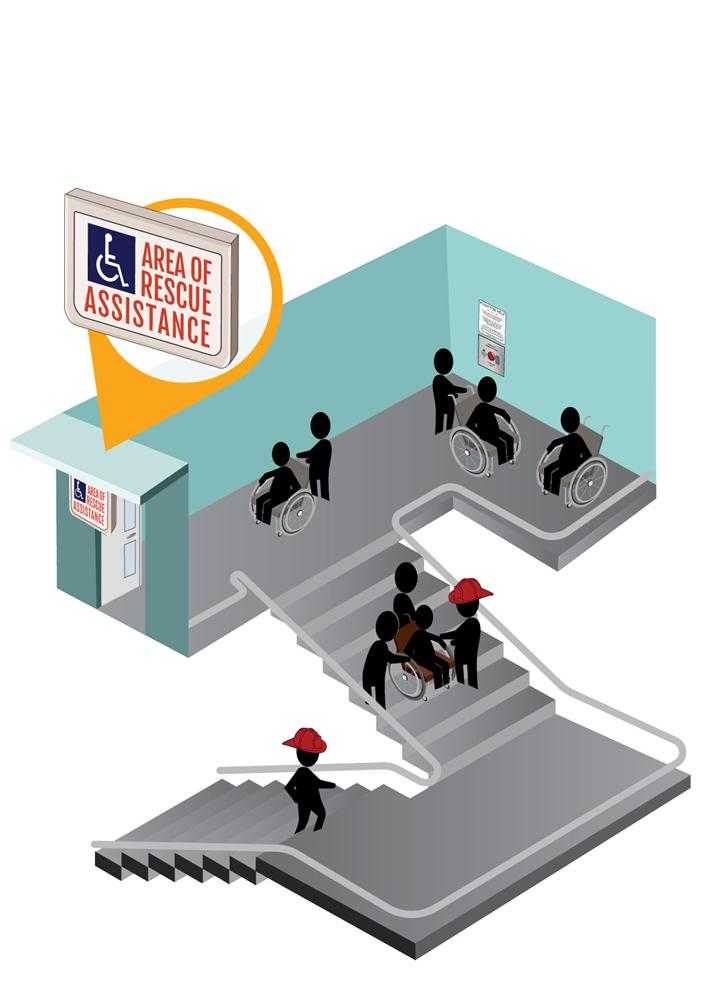 The 4800 Digital Emergency Communication SystemArea of refuge is designed to provide fully supervised, two-way voice communication, between each area of refuge call station and the Main Control Panel.
Main Control Panels
Optionally, up to (4) Remote Control Panels can also be installed throughout the building to allow alternate locations to respond to a call for assistance. An internal modem, operating at the Main Control Panel and connected to a dedicated telephone line, provides an automated-timed dial-out capability to a 911 monitoring location when call are not answered locally.
System Supervision
The 4800 Digital Emergency Communication System supervises all the Call Stations, Area of Rescue Control Panels and Expansion Switches on a continuous basis to identify line faults and defective equipment. Activated Call Station locations and fault information will be alerted and displayed at the 40 character LCD four line display at each Control Panel location.
Auxiliary Electronic Contacts
Each 4800V call station is equipped with an auxiliary set of momentary form "C" contacts that can be used to activate external devices, such as a camera, strobe, or tone device.
4800 Series Area of Refuge System Components & Product Sheets
4800 Series Area of Refuge System Architectural Specifications
4800 Series Area of Refuge System Signage
ADA approved signage is necessary to ensure personnel are able to easily find the safe place in an emergency. Cornell offers ADA approved Directional, System Operation and Room Location signs either lighted with battery backup or photoluminescent System Design Assistance.
4800 Series Area of Refuge System Two-Way Communication
The International Building Code (IBC) requires two way communication from the caller to a local control panel or 911 center when the control panel is not responding. If your Authority Having Jurisdiction (AHJ) requires intercom capability to the 911 center select the 4800 system.
The 4800 area of refuge phone system allows residents and staff to communicate not only with another staff member at the main control station but also with emergency services. With this emergency intercom system, those waiting for rescue assistance can speak directly with 911, describe their situation, and receive instructions.
4800 Series Area of Refuge System Requirements by State
Area of refuge IBC regulations are highly nuanced. A system in Alaska might not meet area of refuge requirements in Wyoming. Cornell Communications is here to help you design the perfect system for your new or existing facility
Contact Cornell Communications for more information on the 4800 Series Area of Refuge System.