4800 Digital ADA Area of Rescue & Emergency Communication System
ADA Area of Rescue Assistance Call Systems for Building Evacuation and Other Emergency Communications in Schools, Campuses, Parking Lots and Other Public Areas
The Americans with Disabilities Act (ADA) requires multi-story buildings to provide an Area of Refuge or Area of Rescue Assistance on each floor. This provides a place for those who are disabled or have difficulty moving around to wait and call for help in an emergency, such as a fire. Rescue personnel can also evacuate the building more efficiently since many of the people on each floor will be gathered in one place.
With the 4800 Area of Rescue Assistance System, patients and residents of hospitals, nursing homes, assisted living facilities, senior living centers, office buildings, and other multi-story structures can feel safer in an emergency, knowing help is on the way. Make sure your facility meets all area of refuge requirements with an emergency communication system and signage from Cornell.
Area of Refuge with 2-Way Phone Communication
The International Building Code (IBC) requires two way communication from the caller to a local control panel or 911 center when the control panel is not responding. If your Authority Having Jurisdiction (AHJ) requires intercom capability to the 911 center select the 4800 system.
The 4800 area of refuge phone system allows residents and staff to communicate not only with another staff member at the main control station but also with emergency services. With this emergency intercom system, those waiting for rescue assistance can speak directly with 911, describe their situation, and receive instructions.
Emergency Call System for Office Buildings, Campuses, Parking Lots and Other Public Areas
The 4800 Digital Emergency Communication System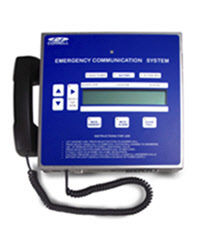 is designed to provide fully supervised, two-way voice communication, between each area of refuge call station and the Main Control Panel.
Main Control Panels
Optionally, up to (4) Remote Control Panels can also be installed throughout the building to allow alternate locations to respond to a call for assistance. An internal modem, operating at the Main Control Panel and connected to a dedicated telephone line, provides an automated-timed dial-out capability to a 911 monitoring location when call are not answered locally.
System Supervision
The 4800 Digital Emergency Communication System supervises all the Call Stations, Area of Rescue Control Panels and Expansion Switches on a continuous basis to identify line faults and defective equipment. Activated Call Station locations and fault information will be alerted and displayed at the 40 character LCD four line display at each Control Panel location.
Auxiliary Electronic Contacts
Each 4800V call station is equipped with an auxiliary set of momentary form "C" contacts that can be used to activate external devices, such as a camera, strobe, or tone device.
Area of Rescue Signage
ADA approved signage is necessary to ensure personnel are able to easily find the safe place in an emergency. Cornell offers ADA approved Directional, System Operation and Room Location signs either lighted with battery backup or photoluminescent System Design Assistance. Additional Area of Rescue emergency communication systems from Cornell include the 4200 Analog System.
Area of Refuge Requirements by State
Area of Refuge Requirements in Arkansas
Area of Refuge Requirements in Kansas
Contact the Area of Refuge system suppliers at Cornell Communications today for more information on our wide range of rescue assistance systems, including smaller systems or systems not requiring two way voice communication to 911 Centers.