AURA Call Reporting Software for Clinics and Assisted Living Facilities
Wireless Nurse Call System Manufacturers Offer the best Emergency Call Reporting Software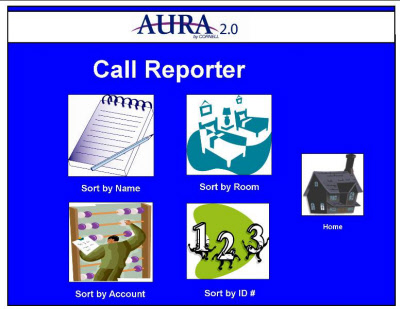 Possessing highly reliable call reporting software in an emergency situation can make all the difference between carefully documenting reaction times during life-threatening emergencies or being left clueless as to what occurred and how response times can be improved. Dependable and highly accurate call reporting software is an integral component for maximizing efficiency in a medical facility. Don't trust your call reporting and tracking to an employee; trust in AURA Call Reporting software from Cornell Communications.

Cornell Communications, the top supplier of high quality visual nurse call systems and wireless paging systems, is proud to include AURA call reporting software in our line of medical emergency communication equipment. AURA Call Reporting software seamlessly integrates with Cornell audio, visual, and wireless nurse call systems and provides your staff with the ability to precisely document all aspects of an emergency situation. This highly intuitive nurse call reporting software monitors peak call period times, keeps precise track of call frequencies, and closely monitors the reaction time of your staff.
Benefits of AURA Call Reporting Software from Cornell Communications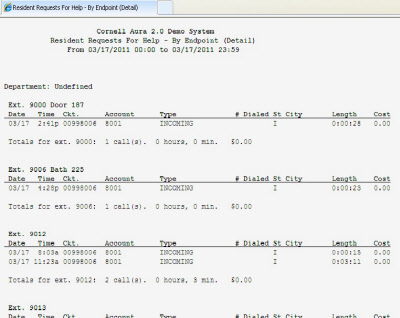 The AURA Call Reporting system from Cornell Communications offers a
wide range of amazing benefits for outpatient clinics and nursing home facilities. Our call reporting software is designed to
closely monitor response times for emergency situations and provide information useful for improving operational efficiency. Whenever an emergency call is placed, AURA instantly documents the call and logs staff response times. This invaluable data can be carefully reviewed later to help improve operational
efficiency, identify potential issues, and even help refine the way your facility and staff respond to medical issues.
After the call has been placed, staff or emergency response teams are notified through computer desktop displays, emails, text messages and pocket paging systems. The easy to learn operating system ensures users of any experience level can operate the program while fully understanding what is being recorded and the importance of the data.
Medical Report Writer Incident Logging Software
Pair your call reporting software with our medical report writer for simple emergency tracking and logging. Our incident logging software generates easy-to-read reports with customizable data metrics, from call activity and patient requests to nurse response times. The report analyzes how quickly caregivers respond to their wireless medical pagers so the hospital can determine how best to improve reaction times. Guarantee your patients' safety, health, and comfort by ensuring your hospital staff works at maximum efficiency.
Avoid confusion and miscommunication in an emergency situation with Cornell's top of the line technology, from nurse call buttons and medical alert pagers to medical reporting and report writing software. Give your patients and their families peace of mind knowing your hospital, clinic, or senior living center has a reliable emergency communication system in place. Whether a patient has fallen and needs assistance or has a simple request or question, our complete nurse call systems alert caregivers instantly so every patient gets the personal attention and care they need.
Get Help with System Design/Installation
Contact the call reporting software suppliers at Cornell Communications today for more information on our amazing AURA Call Reporting software.