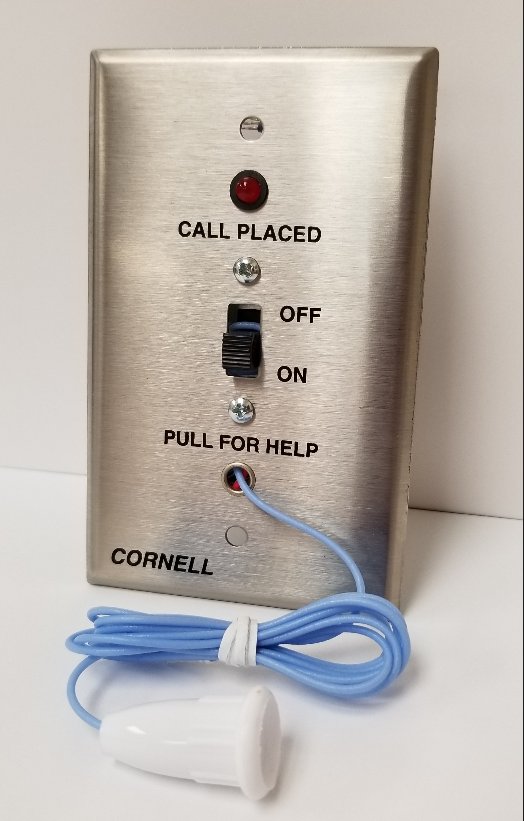 String Station, Germ-Free, Glow-in-the-Dark, With On-Off Slide Switch, Call Placed Light for Dual Status
$58.00
$49.30
/each
(Online Price)
String Station, Germ-Free, Glow-in-the-Dark, With On-Off Slide Switch, Call Placed Light for Dual Status

Healthcare facilities like hospitals, emergency rooms, nursing homes, and more will benefit from having the E-104-1 pull cord emergency call station installed in patient rooms. This nurse call system is simple to use and has a four foot long pull cord so patients can use it from their beds. If a patient needs help, they simply have to pull on the cord to alert the nurse's station.
Once the station is activated, its related indicator light will illuminate and show nurses where the patient who needs help is located. Activating this station will also illuminate the call placed light located on the stainless steel gang plate. This light lets patients know their call was placed and help is on the way. To deactivate this emergency call station, flip the on-off switch to the off position.
The E-104-1 pull cord emergency call station will help any healthcare facility have a faster response time to emergencies. This system is easy to use for both patients and nurses, and patients are at ease when they need help because they know nurses are on the way. Cornell Communications has a large variety of top quality nurse call systems to help your healthcare facilities run smoothly.
Shop our entire selection of emergency call stations to find the nurse call system perfect for your hospital, nursing home, or emergency room.
Read More
Get the system you need.
Audio and visual nurse call systems for assisted living facilities, nursing homes, hospitals and outpatient medical clinics.
Traditional lights, buttons and pull cords are smartphone/WiFi integrated. Let us know what you're trying to do and we'll take care of you.
Order by Noon CST for possible same day shipping*
*See Terms & Conditions
System Quote Get Help with System Design/Installation

1-800-558-8957