Get the system you need.
Audio and visual nurse call systems for assisted living facilities, nursing homes, hospitals and outpatient medical clinics.
Traditional lights, buttons and pull cords are smartphone/WiFi integrated. Let us know what you're trying to do and we'll take care of you.
Order by Noon CST for possible same day shipping*
*See Terms & Conditions
Need Some Assistance?
System Quote
System Design/Installation

1-800-558-8957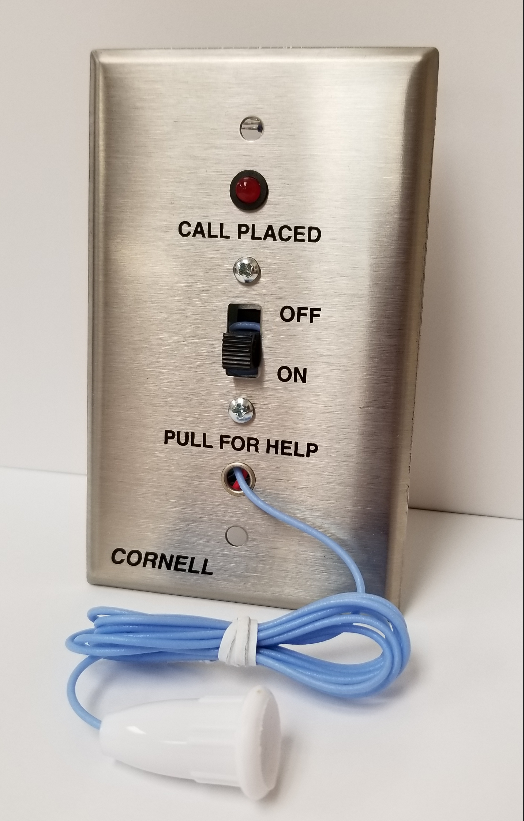 String Station, Anti-Microbial / Germ Free and Glow in the Dark, With Water Tight Seal, On-Off Slide Switch for Dual Status
Online Price:

$65.45

/each

$77.00
Download Brochure & Wiring Diagram
Get Help with System Design/Installation

Healthcare facilities like nursing homes, hospices, senior care communities and more will benefit from having the E-104-1 pull cord emergency call station installed in resident rooms or in showers. With water resistance, this component can be installed in showers in case of emergencies outside of the normal bed or hallway zones. Cornell Communications has a large variety of top quality nurse call systems to help your healthcare facilities run smoothly.
The E-104-1WP pull cord emergency call station will help any healthcare facility have a faster response time to emergencies.
Related Products:
Description:
Station features satin finished stainless steel faceplates with silk-screened designations. Station is applicable for single or dual applications. This station has a gasket making the station splash proof for use in shower applications.
Operation:
Pulling the four-foot germ-free, glow in the dark cord on the Emergency Station activates a call for help confirmed by a red LED. To cancel the call, slide the switch to the off position.
Mounting:
The satin finish stainless steel faceplate with silk-screened designation may be flush mounted on a standard outlet box with single-gang plaster ring, or surface mounted on a Wiremold 5748 or equivalent.
Engineering Specifications:
Faceplates shall be satin-finish stainless steel with silk-screened designations. Emergency station activates a call for help confirmed by red LED. Calls in progress can be cancelled by moving the switch to off position. Incandescent lamps are not acceptable.
Technical Information:
Power Requirements: 24VDC
Operating Environment: 50-120F Indoor non-condensing
Mounting: single-gang back box with 1 3/4" minimum
Physical Faceplate Dimensions :4 1/2"H x 2 3/4"W (1 gang)
Wiring: 10 Wire color-coded pluggable harness
Now supplied with a plastic, anti-microbial, glow in the dark 4 ft long cord
Shop our entire selection of emergency call stations to find the nurse call system perfect for your hospital, nursing home, or emergency room.