inform Mobile Nurse Call System Upgrade
Emergency Call Systems >> Mobile Nurse Call Systems >> Upgrade to a Mobile Nurse Call System
---
Improve Your Existing Nurse Call System with In

form

TM I A Mobile
Integrate Cornell's InformTM I A Mobile nurse call system into your existing visual nurse call system to improve staff response time, resident well-being, data management, and customer satisfaction. InformTM I A Mobile is the nurse call system for the 21st century, seamlessly connecting pull cord, wall-mounted, and mobile call stations. Facilities who use InformTM I A Mobile are afforded a wealth of data used to minimize response times, improve efficiency, boost resident quality of life, and demonstrate value.
GET In

form

TM I A Mobile PRICING
Using a Mobile Nurse Call System
Staff love using Cornell's InformTM I A Mobile system. All calls are presented in a single interface so staff can see what calls need to be answered. The simple interface lets staff respond to calls with just one swipe.
Resident in Room 101 places a call from their pendant. Amy can take the call by pressing the "Take" button.
Amy can see the pendant call from Room 100 was taken by a staff member named Jim Jones.
Amy is currently helping a resident in Room 200. She touches the "Complete" button when she is done with her task.
Amy enters the reason for the call: bathroom, fall, or other reasons. Data is collected for management review.
Many mobile nurse call systems use an invasive RTLS to track staff's every move. InformTM I A Mobile allows for self-reporting, an improvement over the "Big Brother" RTLS's used by other facilities. Facilities who use InformTM I A Mobile still receive essential information; like:
Who placed the call
When the call was placed
Where the resident placed the call
What type of call station was used
Why the call was placed
Which staff member answered the call
How long it took the staff to respond to and complete the call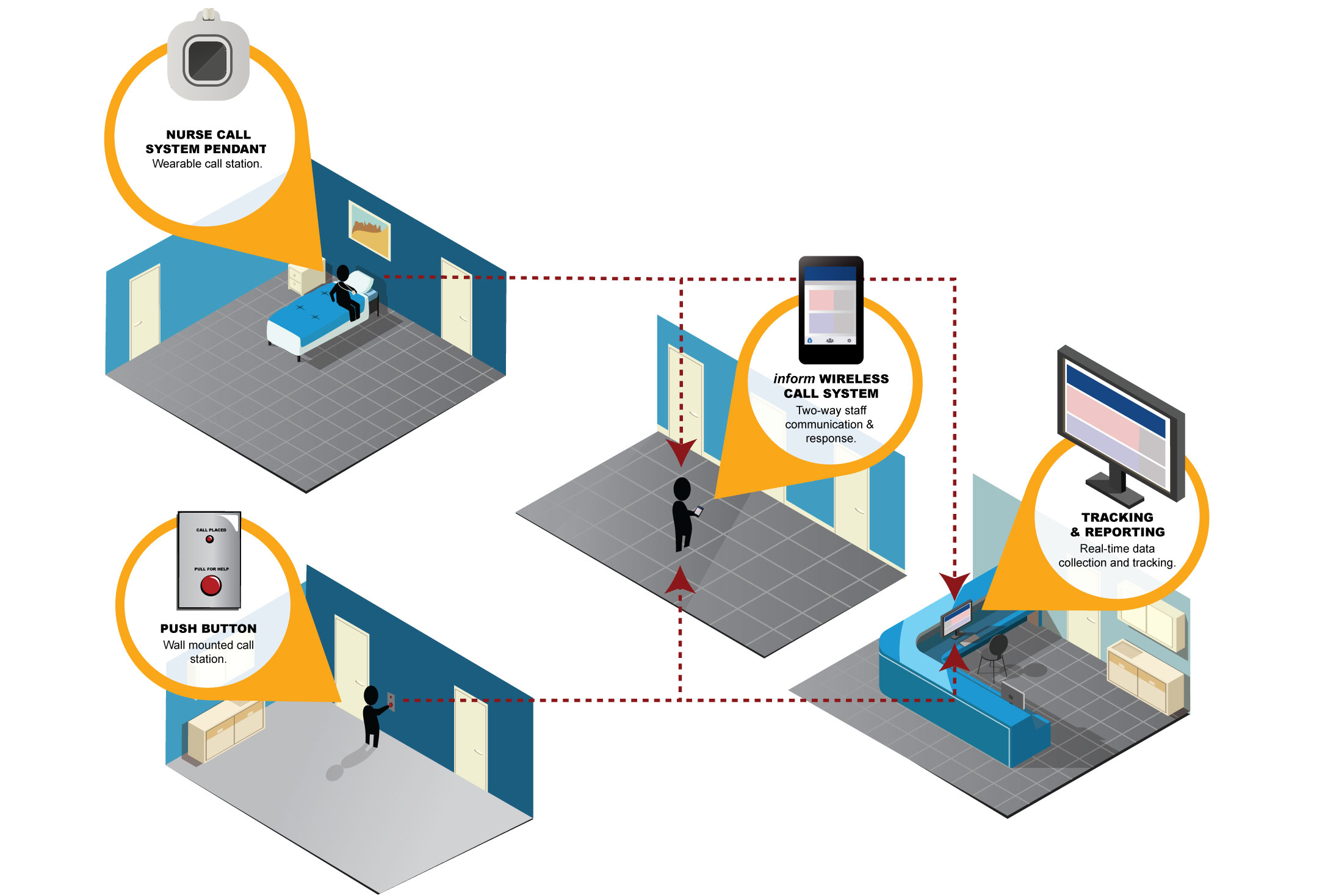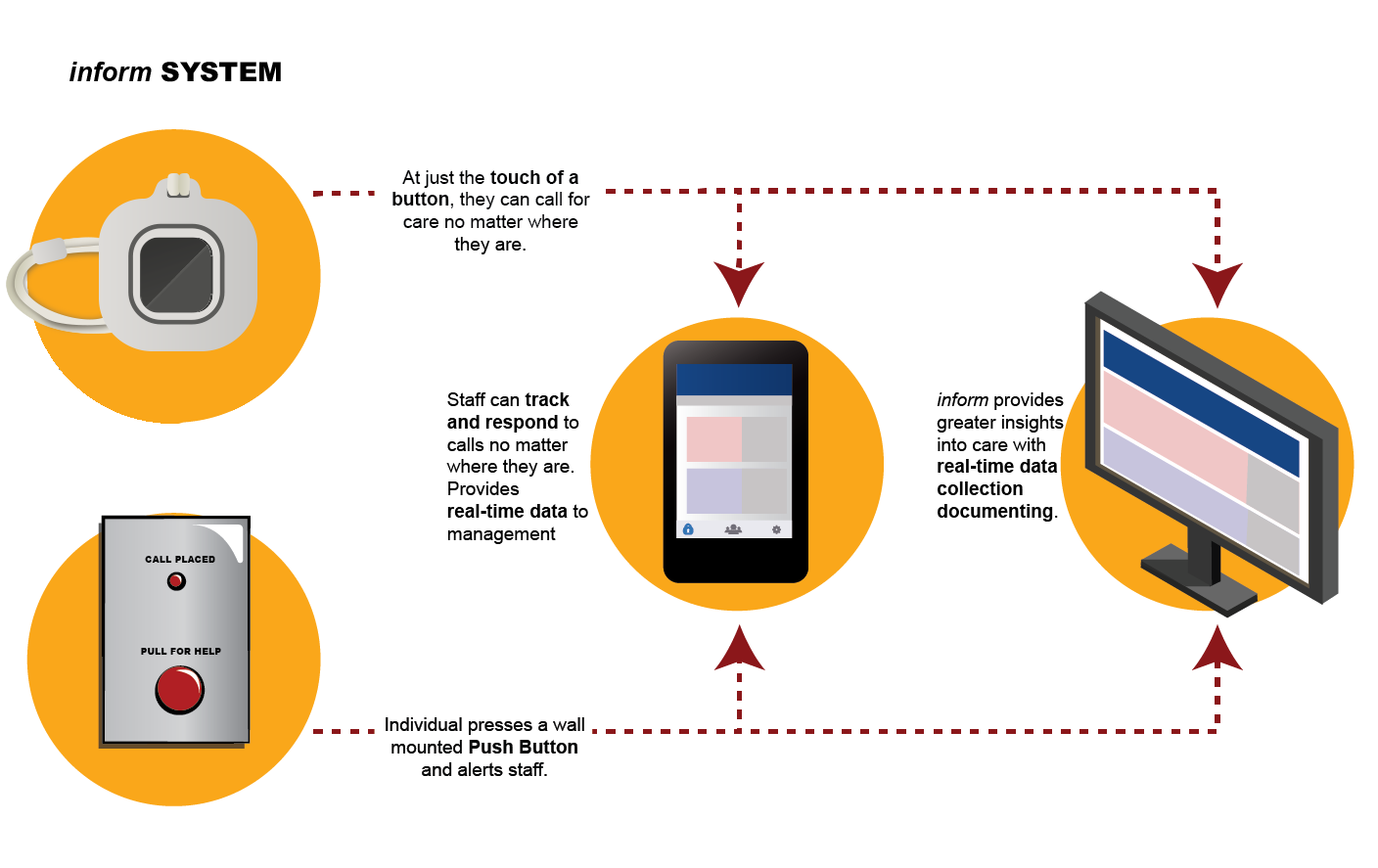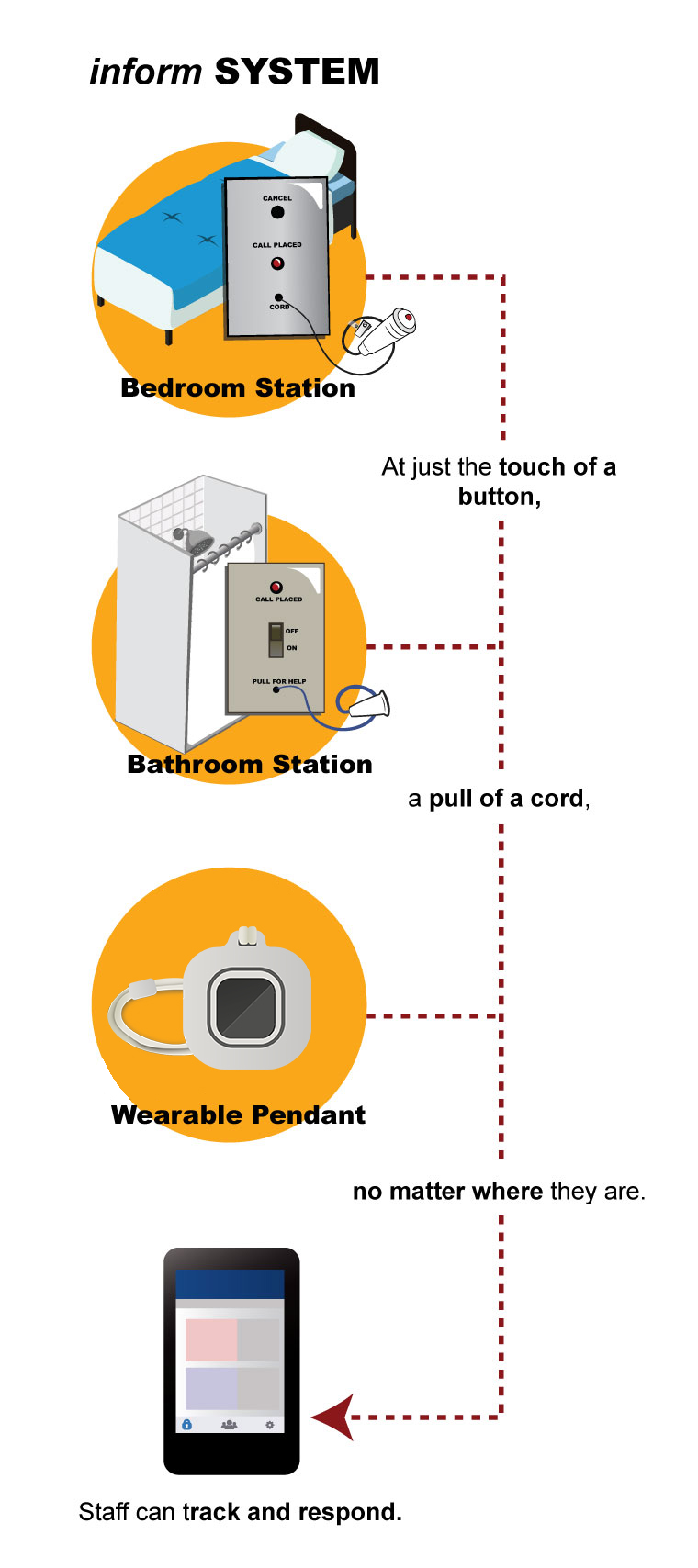 4 Reasons to Upgrade Your Nurse Call System
1. You're Still Wired Only
InformTM I A Mobile is one of the most advanced wireless nurse call systems on the market. A wired-only system relays information to staff inefficiently, increasing response times, and decreasing customer satisfaction. InformTM I A Mobile connects wireless pendants, wall-mounted call stations, bedside monitors, and mobile devices into one easy-to-use interface.
2. You're Missing Out on Valuable Data
InformTM I A Mobile provides management with a wealth of information on call response times, call frequency, RTLS, and staff performance. InformTM I A Mobile's easy-to-use RTLS is less invasive than other systems, and keeps track of who performed what task with which individual. Facilities who use a mobile nurse call system like InformTM I A Mobile have better customer and staff satisfaction.
3. Your Community is Too Loud
An assisted living or outpatient facility isn't exactly the most peaceful place in the world. Staff is responding to calls, lights are flashing, alarms are beeping, people are coughing… It's just plain loud. inform reduces the need for loud alarms and bright lights by funneling all nurse calls into a single, quiet interface. Studies show that excessive lights and noise cause confusion and distress in dementia individuals.
4. You're Too Slow
In an age of emails and texting, we want instant satisfaction. Mobile nurse call systems like InformTM I A Mobile provide medical facilities with a wealth of data they use to reduce response times and improve resident satisfaction. In fact, facilities that use InformTM I A Mobile report response times are four minutes below the industry average.
Benefits of Using a Mobile Nurse Call System
Improve profitability
Increase occupancy with satisfied residents and families
Attract referral sources with data-driven results
Uncover new revenue sources with mobile technology efficiency
Deliver the highest level of care
Provide faster care with multiple applications on a single device
Enable proactive care with point of care data trends
Give peace of mind to residents and families
Improve operational efficiency
Increase staff accountability with real-time alert tracking
Optimize staff time with two-way communication
Create a team environment with optimized workflows
Connect with future-proof technology
Easily scale up with a securely engineered solution
Monitor performance with real-time business data
Integrate with other apps through API integration
Assisted living center and nursing home requirements for safety are always changing. Make sure your facility meets the latest NFPA 99, UL 1069, and ADA regulations by using an up-to-date Cornell nurse call system.