Get the system you need.
Audio and visual nurse call systems for assisted living facilities, nursing homes, hospitals and outpatient medical clinics.
Traditional lights, buttons and pull cords are smartphone/WiFi integrated. Let us know what you're trying to do and we'll take care of you.
Order by Noon CST for possible same day shipping*
*See Terms & Conditions
Need Some Assistance?
System Quote
System Design/Installation

1-800-558-8957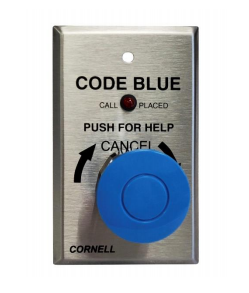 Emergency Station Code Blue, with Call Placed Light and Cancel Button
Online Price:

$170.00

/each

$200.00
Download Brochure & Wiring Diagram
Get Help with System Design/Installation
This E-108CB push button station is a great emergency nurse call system for nurse care facilities, senior living communities, and residents in hospice who need immediate assistance. In a time of need, residents can simply push the button to place a call and activate the corridor light. Our code blue push button station is a reliable wireless communication device usable in assisted living centers, hospitals, nursing homes, and hospices. This push-button nurse call system takes communication to the next level in all healthcare facilities, giving patients and residents the ability to find assistance in times of need fast.
Related Products:
Description:
E-108CB stations were designed for emergency Code Blue applications. They feature single-gang stainless steel faceplates with silk-screened designations. The E-108CB has a "Mushroom" push-button with mechanical latching. Push on/twist off. They may be flush mounted on standard outlet boxes with single-gang rings, or surface mounted on Wiremold 5748 or equal with a depth requirement of 1 ¾". The activator is oil-tight. Momentary switching is available.
Operation:
Pushing the button on the E-108CB activates a call for help confirmed by a red LED. To cancel the call, twist the pushbutton to the right.
Mounting:
The satin finish stainless steel faceplate with silk-screened designations may be flush mounted on a standard outlet box with a single-gang plaster ring or surface mounted on a Wiremold 5748 or equivalent.
Engineering Specifications:
The contractor shall furnish and install the CORNELL E-108CB Emergency Station Code Blue as indicated on the plans. Faceplate shall be brushed stainless steel, with epoxy silk-screened designations. The "Mushroom" button shall be a minimum of 1½" in diameter. The call indicator shall be a red light-emitting diode. The Emergency Station shall fit on a standard single-gang plaster ring or Wiremold 5748 (for surface mounting) or equal. The minimum depth shall be 1 ¾".
Technical Information:
Power Requirements: 24VDC
Operating Environment: 50-120F Indoor, NO-condensing
Physical Faceplate Dimensions: 4 1/2"H x 2 3/4"W (Standard 1 Gang)
Mounting: Single-gang back box with 1 3/4" minimum depth
Wiring: #22 AWG Minimum
Browse our full selection of Cornell Communications nurse call systems to increase emergency communication capabilities in your healthcare facility.