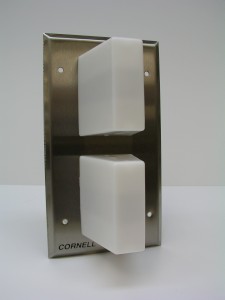 Status Light, 6 lamps on 4-gang plate
$150.00
$127.50
/each
(Online Price)
Status Light, 6 lamps on 4-gang plate
The Cornell L-423 Status Light is designed to be mounted on a 4-gang box or plaster rings with a minimum of 1" depth. Our nurse call lights are available in 1 to 6 different light configurations. The L-423 features six lights which illuminate when the associated nurse call is activated.
These translucent wedge shaped covers are available in white (pictured) or red. They operate on a power requirement of 24VDC, and are designed for operation in a cool, dry environment.
The Cornell L-423 call light is easy to maintain. The dome covers are easily removed from the front for simple lamp replacement.
For over 40 years Cornell has been providing medical facilities, schools and nursing homes with top quality visual nurse calling systems. Our engineers are constantly looking for new ways to improve our products, focusing on ease of use leading to faster response times. We are dedicated to providing superior emergency communication systems and exceeding customer expectations.
View the corridor status lights available from Cornell Communications.
Read More
Get the system you need.
Audio and visual nurse call systems for assisted living facilities, nursing homes, hospitals and outpatient medical clinics.
Traditional lights, buttons and pull cords are smartphone/WiFi integrated. Let us know what you're trying to do and we'll take care of you.
Order by Noon CST for possible same day shipping*
*See Terms & Conditions
System Quote Get Help with System Design/Installation

1-800-558-8957