Wireless Nurse Call System: Aura 2.0
Wireless Nurse Call Systems
The AURA 2.0 emergency call system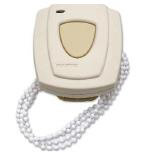 from Cornell is a comprehensive solution which combines the best of both worlds: conventional wired technology and wireless nurse call system. This emergency response system is designed to provide our customers with the most robust wireless nurse call emergency response system available. AURA 2.0 utilizes wireless pendants to send patient calls to nurses and hospital staff via pagers, cell phone text message, email, or other call systems.
Emergency pendants are perfect for senior, independent, and assisted living facilities. Even when residents are away from their rooms, they will always be carrying an emergency call pendant in case of a fall, suspected heart attack, or other need.
Replace or update an old call system with AURA 2.0. It integrates with other Cornell emergency call systems or your existing wireless emergency response system.
Senior and Assisted Living Facility Wireless Emergency Communication
Our AURA 2.0 emergency communication system meets the needs of senior and assisted living facilities by providing code-compliant wired call stations or wireless nurse call system pendant devices designed meet the individual requirements of every facility. AURA 2.0 will monitor, automatically record, document calls, and notify staff through in-house medical pagers, e-mail, text message to specified cell phones, or simple integration with existing digital phone systems. AURA 2.0 nurse call system technologies assimilate with most wired audio and visual nurse calls systems, enabling legacy systems to remain in place while adding medical data logging and documentation capabilities.
Wireless emergency communications for nursing homes, senior living centers, and other assisted living facilities is essential to ensure the safety and care of residents. Our nurse call technologies are easy to use for both patients and staff and are reliable for emergencies as well as day-to-day patient needs. Allow your residents to continue living independently in your safe facility, knowing they can always get help with the push of a button. Our flexible wireless emergency communication systems can be adapted for a variety of different facilities and individual needs.
Nurse Call Pendant
With our top-of-the-line wireless nurse call pendants, residents of senior homes and assisted living facilities can easily call for assistance no matter where they are. These versatile personal pendant transmitters come with both a neck cord and a belt clip. Wearing our nurse call pendant at all times, your patients or residents will never lose or misplace it, ensuring they can call for help anywhere.
Our small, light, water resistant mobile transmitters function with single-button, one-second press and hold activation. Used with Cornell's AURA 2.0 nurse call paging system, this wireless nurse call pendant ensures immediate emergency assistance for nursing homes and assisted living centers.
The AURA emergency pendant allows residents of senior and assisted living facilities to call for a nurse wherever they are. The pendant transmits the call to alert staff via pagers, cell phone, an annunciator, or other wired or wireless nurse call system. The convenient wireless emergency call system offers safety for your residents and peace of mind for their families, knowing help is on the way at the push of a button.
Wireless Nurse Call System Integration
Cornell Communication's AURA 2.0 wireless nurse call communication systems can be integrated with the complete line of Cornell Communications emergency communication products. From patient monitoring services to individual emergency notification systems, the AURA 2.0 wireless communication system will increase the speed your emergency response to unanticipated situations or basic operations on a daily basis.
Our wireless emergency communication call systems – including nurse call pendants, medical pagers, transmitters, receivers, and wireless pull cord bed stations – can be adapted to work with other systems. While the pendants can be worn or carried at all times, bedside stations are convenient for residents, staff, and visitors in case of an emergency in the room. Your emergency wireless communication system can be configured to instantly send a message to medical pagers.
Contact the wireless nurse call system sales specialists at Cornell Communications today for more information about our AURA 2.0 system and the difference it can make for your senior living facility.