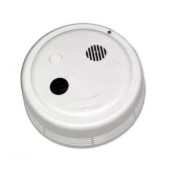 SD-400, Smoke Detector, Wired
$179.00
$152.15
/each
(Online Price)
Get Help with System Design/Installation
Smoke Detector Alarm - SD-400 Wired Smoke/Heat Detector
Wired Smoke Detectors can be integrated with the CORNELL 4000 Visual Nurse Call System. The SD-400 smoke/heat detector features an onboard sounder, a smoke and heat sensor, an LED set and local test capability.
Operation:
When used with a Cornell system, this device monitors smoke/heat detection continually. A 9VDC battery is provided for back-up in the event building power is lost.
Mounting:
Mounting hardware adapts to standard junction boxes.
Technical Information:
Dimensions: 6.5" Diameter x 2.66"
Power: 120VAC
Back-Up Battery: Alkaline 9VDC
Operating Environment: 40-100°F Indoor Non-Condensing
Sounder: 90db @ 10 feet, Temporal output
Contacts: Form A/C
Tandem Connection: Up to 6 units
Agency Listing(s): UL 217, UL 1730, NFPA 72, CSFM, BFP, MSFM
Get the system you need.
Audio and visual nurse call systems for assisted living facilities, nursing homes, hospitals and outpatient medical clinics.
Traditional lights, buttons and pull cords are smartphone/WiFi integrated. Let us know what you're trying to do and we'll take care of you.
Order by Noon CST for possible same day shipping*
*See Terms & Conditions
System Quote
Get Help with System Design/Installation

1-800-558-8957